Cameron Diaz's husband, Benji Madden, wrote a poem to her on their 8th anniversary!

The couple's first meeting was because of fate.

Madden is not only a doting father but also a husband who played an important role in Cameron's return to acting.
Renowned Hollywood actress Cameron Diaz and her husband Benji Madden celebrated their 8th wedding anniversary on January 5, 2023.
Madden commemorated the couple's special day on social media with a painting drawing and a sweet post to his beloved wife.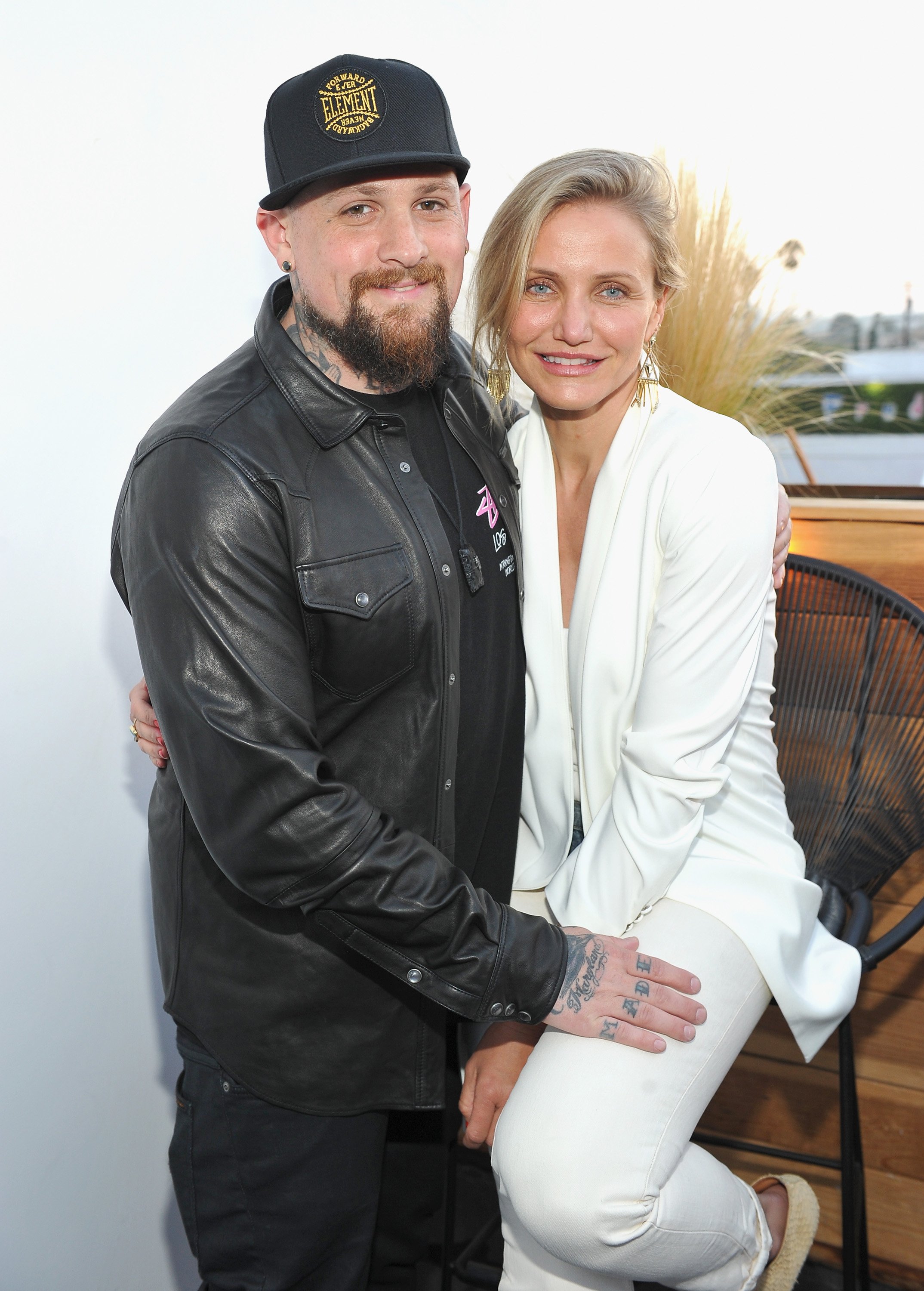 Guitarist Benji Madden and actress Cameron Diaz attend House of Harlow 1960 x REVOLVE on June 2, 2016 in Los Angeles, California ┃Source: Getty Images
"In Love, Inspired, Happy, and Grateful. 8 years married, side by side, and now a little one for us to guide. Let's do 80 more and then forever, happy anniversary @camerondiaz," wrote Madden.
Along with the poem, the Good Charlotte rocker shared a piece of artwork featuring drawings of flowers, which he usually uses to pay homage to his spouse.
In the comments section, Madden's fellow band member, drummer Dean Butterworth, congratulated him on his milestone with Diaz: "Congratulations, my brother! Love you, guys."
A die-hard fan expressed Madden deserves to be happy: "Your happiness is so well deserved, and I wish for nothing but continued joy and positivity for you and your beautiful family."
How Did the Couple Meet?
It took a while for Madden and Diaz to cross paths, although she had known his sister-in-law Nicole Richie and his twin brother, Joel Madden, for years. In April 2016, the "Charlie's Angels" star reminisced how the couple met and recounted the words she uttered upon laying eyes on Madden for the first time:
"The first thing I said when I first met my [would be] husband was, 'He's hot.'"
Diaz wondered why she and Madden had never met before, although their circle was smaller than they realized. The pair officially met when she hosted a dinner party with Nicole and Joel present at her abode.
Joel had asked the blonde beauty whether he could invite his brother to the party, and while there, Diaz and Madden's worlds came together: "Then I saw him again," she continued. "Wait a second, still hot!"
The duo instantly connected and started dating. Madden and Diaz wed in 2015 and have been together ever since. Being with the musician has made Diaz completely forget about her past love life because she has found a genuine partner in him. She said "no one compares" when it comes to her husband:
"You realize like, 'Oh, this is like the real thing. This is what real love is. This is what real commitment and devotion are. This is the person that you build your life with."
Does the Couple Have Kids?
Diaz and Madden have one child together, a daughter named Raddix. The couple announced the birth of their first child on their respective social media pages in January 2020. Raddix is believed to have arrived on December 30, 2019.
The Hollywood pair happily announced their daughter's arrival with a "Happy New Year" message on Instagram and said their bundle of joy had "completed" their family of three.
Although Diaz and her husband joyfully revealed the news of their child's birth, they also shared they would not be posting images of her on social media to shield her:
"So, we won't be posting pictures or sharing any more details, other than the fact that she is really, really cute!! Some would even say RAD."
The proud new mom later told television host Jimmy Fallon that their baby girl was "the best thing that ever happened" to her and Madden. Diaz also divulged how fast the couple's daughter grew, explaining that "she's not the same baby that she was yesterday."
Not that she was complaining, but the San Diego native stated it was heart-warming to see her child's "growth" to be a part of the experience. "It's just amazing," said Diaz.
She became a full-time mom after retiring from acting in 2014 after filming the remake of the movie, "Annie." When she became a parent, Diaz was 47 years old and revealed she realized in her 40s that certain aspects of her life were unfulfilled.
Once she married and started a family, she let go of her successful Hollywood career only to return in 2022 with a comedy film, "Back in Action," alongside actor Jamie Foxx.
Diaz spoke candidly about her eight-year hiatus and disclosed that she missed being in front of the screen. Moreover, her husband played a role in her getting back to acting, said a source:
"He encouraged her to unretire."
Another insider revealed Diaz was already prepared to get back into showbiz but that all she needed was a nudge, adding her spouse had always shown support in her interests, especially acting. Still, Diaz expressed that she does not want her career to be the center stage of her life like before.