General Hospital
General Hospital Spoilers Thursday, November 9: Olivia Frantic, Sonny Threatens, Spencer Disappointed, Charlotte Confesses
General Hospital Spoilers for Thursday, November 9, 2023, indicates that Lois Cerullo (Rena Sofer) tells Brook Lynn to say the word and she will stay.
General Hospital Spoilers Highlights
Spencer Cassadine (Nicholas Chavez) doesn't understand why Laura Collins (Genie Francis) is supporting Esme Prince (Avery Pohl) in her decision. Esme has exciting news to share and more.
General Hospital Spoilers – Spencer Cassadine Questions Laura Collins
General Hospital Spoilers Lois tells Brook Lynn to say the word and she will stay in Port Charles.
Lois came to Port Charles to help Brook Lynn Quartermaine (Amanda Setton) get her job back since Tracy Quartermaine (Jane Elliot) forced her to spy and lose it.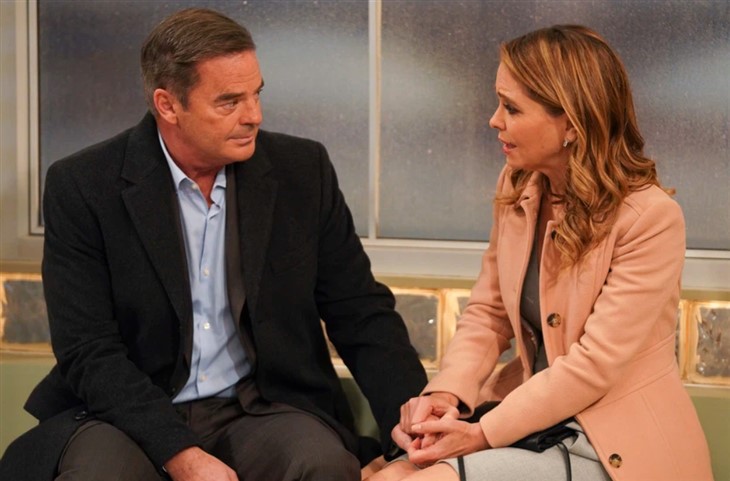 Lois has also been trying to help Ned regain his memories but will she stay once she finds out he is hurt once again?
Spencer questions how Laura could support Esme's choice to move out. Spencer has tried every way in the world to make up for his father not taking care of his little brother.
However, now both Laura and Kevin Collins (Jon Lindstrom) act as though it is no longer his place. Why does Lauranot want Spencer to be a big part of his brother's life?
GH Spoilers – Anna Devane Wonders If Dante Falconeri Is There To Arrest Her
Esme has some big news to share. Esme has been wanting to move out of Laura and Kevin's house for a long time.
ALSO READ – General Hospital Spoilers: Sonny And Carly Smell A Rat Named Nina
Now that Laura agrees with her and is paying her rent, Esme is ready to pack up and move. Will Esme and Ace Cassadine (Jay and Joey Clay) be okay living alone or will Nikolas Cassadine (Adan Huss) come back and stalk them instead?
Anna asks if Dante is there to arrest her when he shows up. Anna admitted to shooting Charlotte Cassadine (Scarlett Fernandez) however, she didn't shoot her on purpose.
Perhaps Dante is going to tell Anna that Charlott had a key to the house and that is how she got inside. Could Dante tell Anna more about the backpack contents or even about the special investigator?
General Hospital Spoilers – Charlotte Cassadine Wants To Talk
Charlotte wants to tell what happened at Anna's when she got shot. Will Charlotte confess to everything she has done to Anna or will she put all of the blame on Anna instead?
ALSO READ – GH Spoilers: Spencer Enraged Over Esme's New Digs-Fears Less Time With Ace?
How will Charlotte spin this situation since she caused it all?
Sonny Corinthos (Maurice Benard) tells someone that is the last thing they want to do. Of course, Sonny has just told Ava Jerome (Maura West) that she was sleeping with the enemy. Does Ava want to confront Austin Holt (Roger Howarth)?
Olivia Quartermaine (Lisa LoCicero) screams for Eddie Maine/Ned Quartermaine (Wally Kurth) as he is tangled in a net.
Will Ned survive this new dip in the water? Will Ned's memories come rushing back now that he is near death?
Be sure to catch up on everything happening with GH right now. Come back here often for General Hospital spoilers, news, and updates.
For more about what's happening on your favorite soaps and more ways to connect with us, join the conversation on our Facebook Page, check out our Twitter feed, look for an update on our Instagram, follow us on Threads , Always stay up-to-date with us on Google News, or drop us an e-mail HERE! See you there!